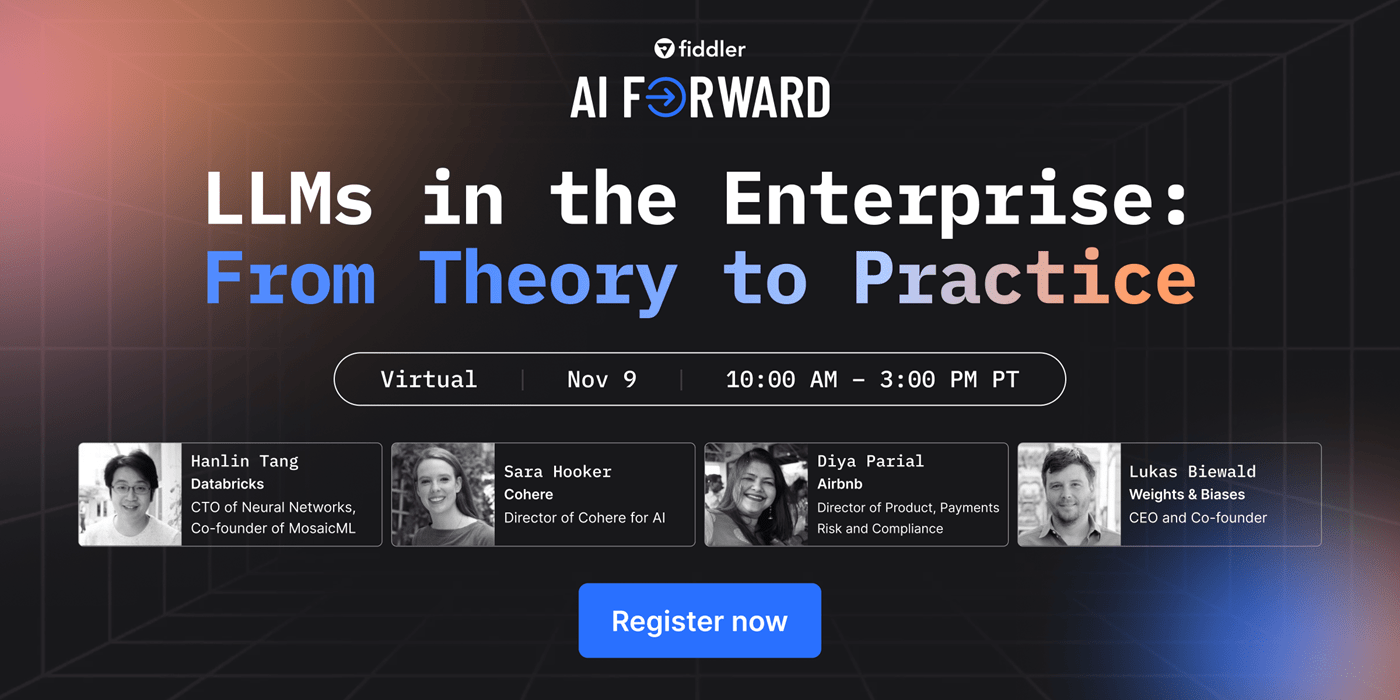 AI Forward 2023 - LLMs in the Enterprise: From Theory to Practice
Learn how to overcome LLMOps challenges in pre- and post-production, build enterprise LLM infrastructure, and deliver measurable business value, including hands-on workshops and expert panel discussions. Register now for AI Forward 2023 — a FREE one-day virtual summit organised by Fiddler AI!
Fiddler AI is excited to host AI Forward 2023 - LLMs in the Enterprise: From Theory to Practice, a dual-track summit filled with panels, sessions, and hands-on workshops.
Learn from AI leaders and industry experts at LlamaIndex, MosaicML, Cohere for AI, Weights & Biases, Airbnb, Canva, Virginia Alcoholic Beverage Control Authority, Nvidia, Google, and more on how to go beyond LLM theory to launch LLMs into production, and create real business value with better user-experiences.
Check out some of the exciting sessions you don't want to miss:
Main Track:
Everyday Challenges and Opportunities with LLMs Pre- and Post-Production
Experts from Cohere, LlamaIndex, and Chroma will dive into LLM deployment options, what to focus on in the evaluation stage, and their experiences and best practices on how to move LLMs from pre-production to production.
LLM POC to Production: Insights from an Infrastructure Viewpoint
Leaders from Google, DataStax, and Nvidia will discuss the LLMOps infrastructure and building blocks that enterprises need to consider to support the new frontier of generative AI and LLMs.
Leadership Perspectives: Use Cases and ROI of LLMs
Executives from Airbnb, Canva, and Virginia Alcoholic Beverage Control Authority will share LLM use cases, how to incorporate LLMs into business strategy, key metrics to track to measure and generate ROI, and how to address concerns in generative AI.
Fireside Chat: CEOs in Conversation
Join Lukas Biewald, CEO and Co-founder at Weights & Biases and Krishna Gade, CEO and Co-founder at Fiddler in an intimate fireside chat where they will share the opportunities enterprises can reap from applying generative AI as well as the shortcomings in LLMs, and how to evolve tech stacks and culture to take advantage of generative AI.
Workshop Track:
Evaluating LLMs with Fiddler Auditor
Join the creator of Fiddler Auditor, the open-source robustness library for red-teaming of LLMs, to learn how to evaluate LLM robustness, correctness, and safety in pre-production.
Effective Enterprise Compliance: Make a Leap of Trust with FRoG (Fiddler Report Generator)
Calling for all Model Risk Management, Risk and Compliance teams! Learn how to use the Fiddler Report Generator to create custom reports to share with technical teams who need to conduct periodic reviews on models.
Chat on Chatbots: Tips and Tricks
Our resident data scientist will share his experiences building an LLM chatbot for Fiddler Documentation and share tips and pitfalls so you can effectively launch your own chatbot.
Demo: Fiddler AI Observability Platform for ML and LLMOps
Get a front row seat to see a live demo on how you can use the Fiddler AI Observability Platform for ML and LLMOps for your predictive and generative models.
The journey of LLMs in the enterprise is only beginning... Get a head start with this incredible one-day, dual track virtual summit.
Data Phoenix Newsletter
Join the newsletter to receive the latest updates in your inbox.
Comments
---