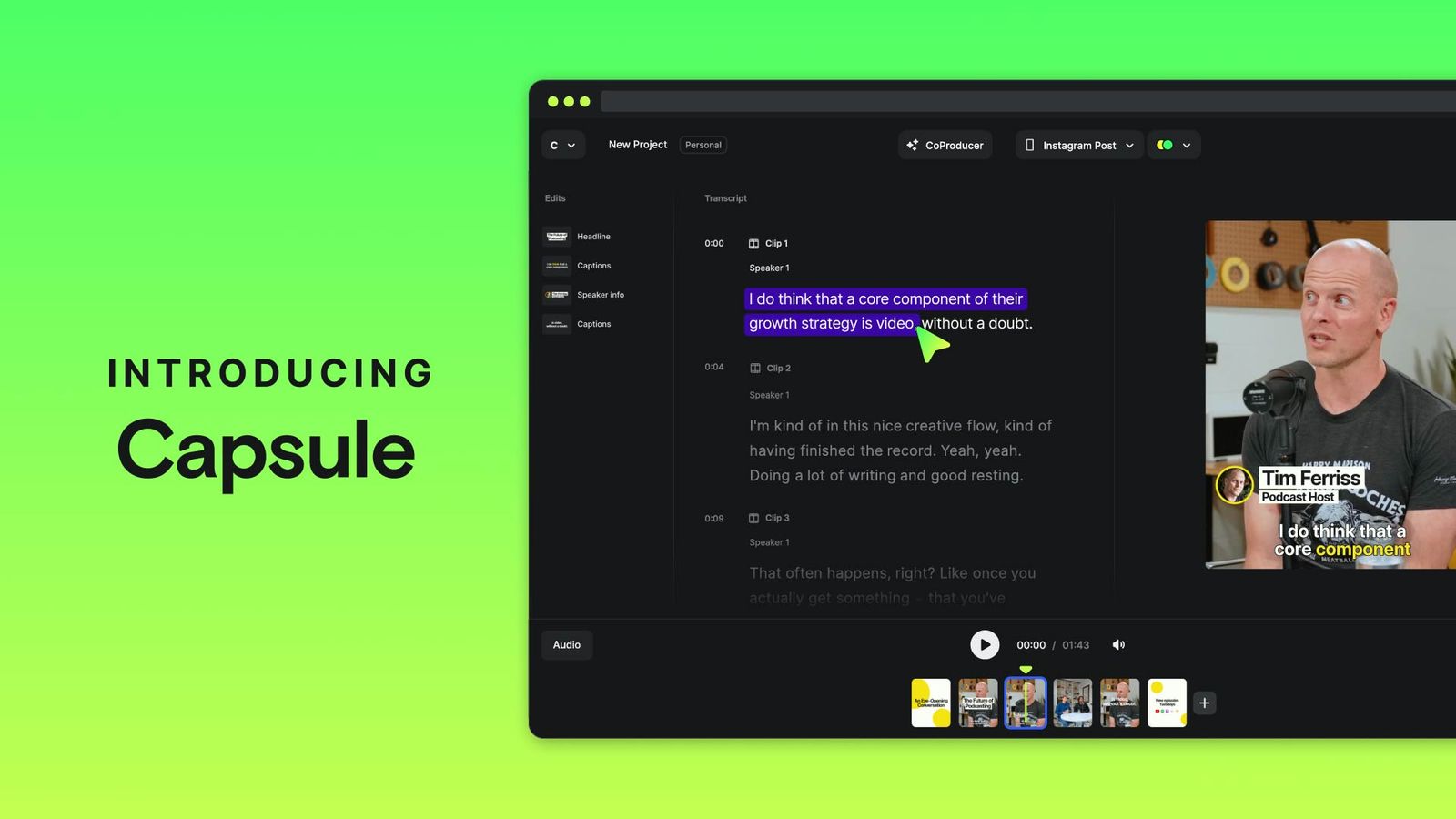 Capsule is making video editing less intimidating for professional teams everywhere
Capsule is an AI-powered, browser-based video editor that aims to make video editing easier, faster, and less intimidating. With its user-friendly interface, AI-powered assistant, and soon-to-be-announced collaborative tools, Capsule is definitely a game-changer.
After more than 3 years in the making, Capsule's AI-powered video editor is finally out. Designed with enterprise teams in mind, Capsule aims to accelerate the process of video editing in a professional setting, making it "10x faster and easier". In particular, the video editor was designed keeping in mind that over 250 interviewed teams reported that video editing isn't always a straightforward activity, that enforcing brand guidelines can be difficult and that even though video editing is a collaborative process, available software makes it hard to work as a team.
These challenges were addressed by adopting an approachable UI, inspired in familiar collaborative business tools like Notion or Google Slides. Then AI was layered in to assist in the more daunting tasks. Capsule also aims to incorporate the concept of design systems to video, so that teams can consistently and reliably create appealing end-products. Finally, this is all done within a web browser, one of the ultimate collaboration tools. Relying on a web-based interface also allows Capsule to use fast GPUs in the cloud, which means everyone can use the editor, even if they don't own a fast state-of-the-art computer.
Rather than making professional video editors redundant, Capsule wants to add value by taking care of the tedious repetitive processes that can be simplified and even automated, and thus enabling professionals to focus on higher-level production and story-telling. This is achieved with the integration of the 'design systems' concept into video editing, meaning that teams can now confidently create on-brand video even without familiarity with branding and motion design. Capsule also features CapsuleScript, a handy feature that enables instant responsive resizing of videos so they can be viewed in any device without additional production.
Even if the collaborative side of the platform is still a work in progress, it seems as if Capsule has big plans for the future, which they will be sharing more about later this year. Meanwhile, Capsule is free to use with limitations for business individuals who register using a company email: although free users can have unlimited collaborators, they are restricted to 3 projects, and can only use stock motion design systems. Enterprise pricing is also available, eliminating the 3-project limitation and allowing the creation of custom motion design systems, among other features unavailable in the free version.
Capsule is definitely set to become a game-changer, making video editing more approachable for non-professionals, and assisting professionals in optimizing their workflow. The addition of collaborative tools will be a welcome addition to an already impressive suite of video editing features.
Data Phoenix Newsletter
Join the newsletter to receive the latest updates in your inbox.
Comments
---