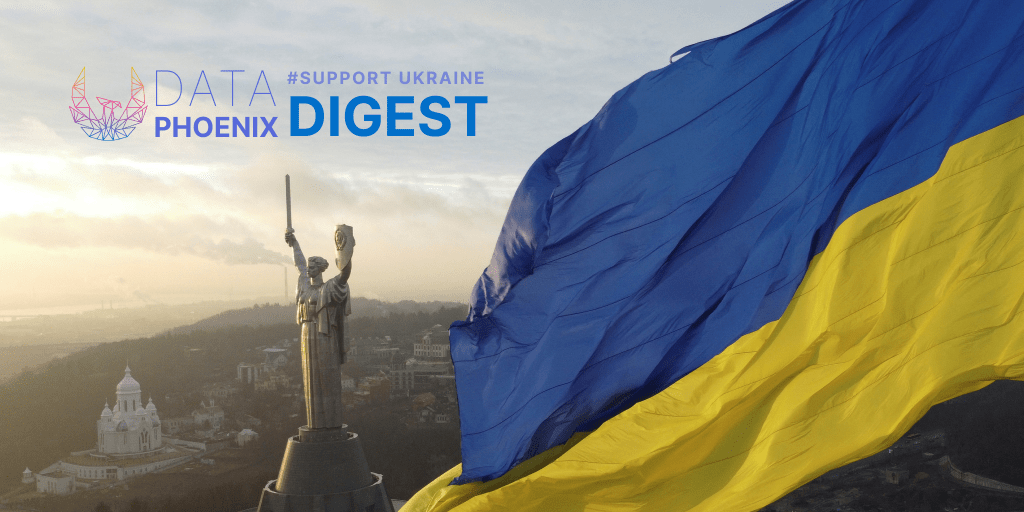 Data Phoenix Digest - #SupportUkraine
Dear Readers,
Today our issue is dedicated to the war that Russia started against Ukraine. As you may know, on February 24, Russia started the full-scale war against Ukraine. We can and have to stop Russia from causing catastrophic damage to Ukraine and the whole world. Because they won't stop!
They are shelling and bombing not only military infrastructure (as Russian propaganda claims) but civilians as well: schools, apartment buildings, kindergartens, hospitals, etc. Down below you can see how Russian occupants damaged a multi-storey building in Solomyanka, Kyiv. Russian aviation is controlled and guided by A-50 aircraft from the territory of the Minsk region in the airspace of Belarus and the occupied territory of Crimea.
Today, 27th of February, Russian diversion intelligence group has shot a family with three children in Kyiv, the adults and one child were killed. The girl's name was Polina. She studied in the 4th grade of school № 24 in Kyiv. In the morning she and her parents were shot on the Telly street by a Russian DRG. Polina's parents died, her sister is in the intensive care unit of KMKL №17, and her brother is in Okhmatdyt Children's Hospital.
In an effort to intimidate the population of Ukraine, the Russian army is increasingly relying on fear and deliberately chooses to destroy civilian infrastructure and housing.
After the shelling by the Russian invaders in Kyiv, Okhmatdyt Children's Hospital reported that one child was killed, five others were injured. The boy, who was wounded during the shelling is in critical condition (the hemorrhage and brain damage).
And this is just a couple of examples! We could go on further.
As to the pretext for this war, the citizens of the world should know that ethnic Russians and the Russian-speaking population of Ukraine were never under a threat (before and after 2014). Ukraine's government was NEVER led by radical nationalists and fascists. Far-right parties never crossed a 5% margin needed to be represented in Rada, Parliament of Ukraine.
The world has been ignoring the threat from Putin's Russia for too long, and today we have to stand together and speak up about what is really going on. Don't believe disinformation and don't spread fakes. Monitor only 2-4 official pages and accounts and block those who are spreading fakes. For example, you can follow these guys on Twitter:
Now, as to what YOU can do:
There is opportunity to join Ukrainian cyber troops and work against our common enemy on that front. Also, you can help us reach out to different companies and ask them to stop working with and providing their services in Russia. Dell, Intel, and AMD have already severed all kind of relationships with the invaders.
How to help the Ukrainian army
The National Bank of Ukraine has opened a special account to raise funds for the Ukrainian Army. Anyone from any country can donate! The account is multi-currency. It is open for transfers of funds from international partners and donors, private individuals, and from Ukrainian business and citizens.
For donations in USD:
SWIFT Code NBU: NBUA UA UX
JP MORGAN CHASE BANK, New York
SWIFT Code: CHASUS33
Account: 400807238
383 Madison Avenue, New York, NY 10179, USA
Bank account: UA843000010000000047330992708
For donations in GBP:
SWIFT Code NBU: NBUA UA UX
Bank of England, London
SWIFT Code: BKENGB2L
Account: 40000982
Threadneedle Street, London EC2R 8AH, UK
Bank account: UA843000010000000047330992708
For donations in EUR:
SWIFT Code NBU: NBUA UA UX
DEUTSCHE BUNDESBANK, Frankfurt
SWIFT Code: MARKDEFF
Account: 5040040066
IBAN DE05504000005040040066
Wilhelm-Epsteinn-Strabe 14, 60431 Frankfurt Am Main,Germany
Bank account: UA843000010000000047330992708
Для зарахування коштів у національній валюті:
Банк: Національний банк України
МФО 300001
Рахунок № UA843000010000000047330992708
код ЄДРПОУ 00032106
Отримувач: Національний банк України
For donations in Crypto:
BTC - 357a3So9CbsNfBBgFYACGvxxS6tMaDoa1P
ETH - 0x165CD37b4C644C2921454429E7F9358d18A45e14
USDT (trc20) - TEFccmfQ38cZS1DTZVhsxKVDckA8Y6VfCy
Слава Україні!
Dmitry Spodarets
Chief Editor of Data Phoenix
Data Phoenix Newsletter
Join the newsletter to receive the latest updates in your inbox.
Comments
---