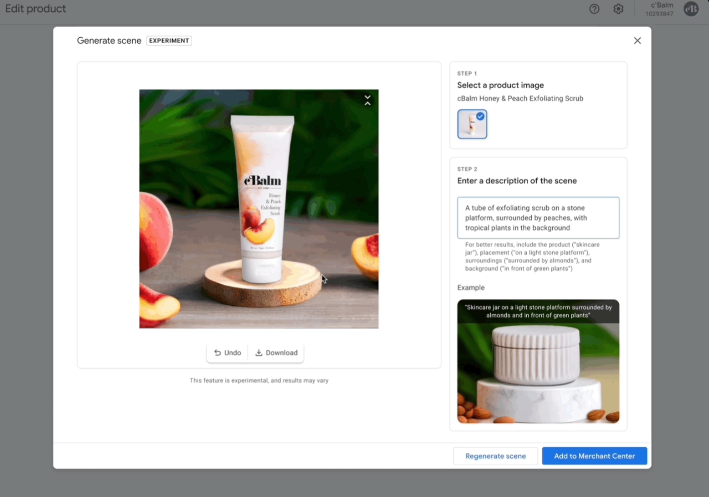 AI-generated imagery may be the next big thing in digital advertisement
Google and Amazon have launched AI-powered image generation tools for advertisers to create high-quality product images that can help them drive more successful advertising campaigns.
Last week, Amazon announced that it would release a set of generative AI-powered tools within the Amazon Ads platform to help clients of all sizes build more successful advertising campaigns. Following Amazon's move, Google announced the release of the AI-powered Product Studio several months after its official introduction at Google Marketing Live last May. The tool will be available in Google's advertising platform, Merchant Center Next.
Both companies cite similar motivations behind their move towards AI-driven advertising tools: on the one hand, campaigns including more than one engaging, high-quality product image tend to fare better than those with standalone images of products against solid backgrounds; on the other, not every advertiser has the resources to acquire the high-quality creative media that drives successful campaigns. In a March 2023 survey, Amazon found that nearly 75% of the respondents, customers who had not been able to build a successful campaign, cited the choice of creative format and building ad creatives as considerable hurdles to their success.
Amazon's announcement suggests that the main functionality of their tool will be the production of on-brand content from existing product images. The claim is that the tool will function by "leveraging generative AI to deliver a set of lifestyle and brand-themed images, based on product details, in a matter of seconds." There is also the possibility to refine the resulting images via short-text prompting. In contrast, Google's description of Product Studio gives the impression that this tool may be more full-featured than Amazon's. Product Studio features the possibility of prompting the generation of a custom scene for a product image. However, it is also cited as being able to remove distracting backgrounds and improve the size or resolution of a product image without the need for a reshoot.
Amazon Ads began rolling out the generative AI tool to 'select advertisers' on October 25. Although the company stated that availability would expand over time, there is no fixed date for when it will be generally available. US merchants can access Product Studio via Merchant Center Next and the Google and YouTube app on Shopify, starting in the next few months.
Data Phoenix Newsletter
Join the newsletter to receive the latest updates in your inbox.
Comments
---