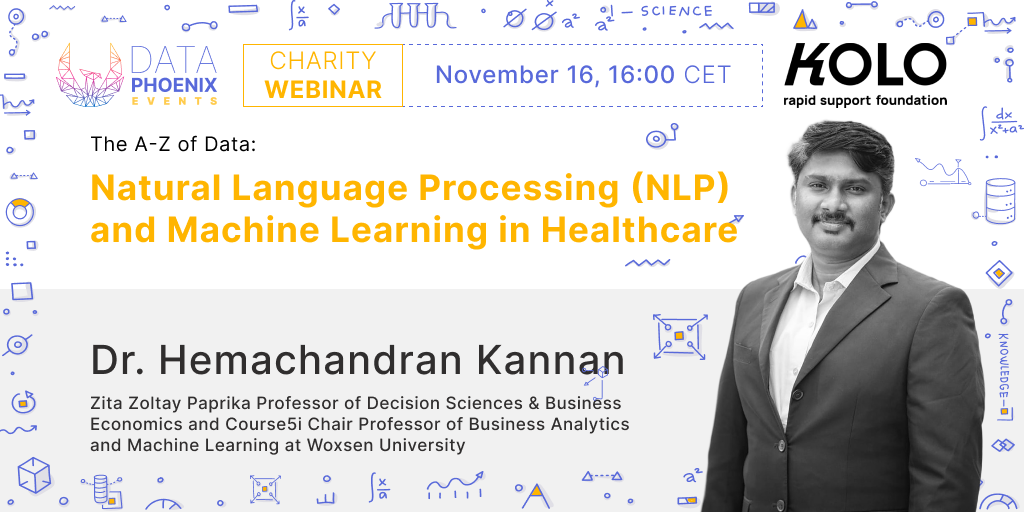 Charity AI webinar "Natural Language Processing (NLP) and Machine Learning in Healthcare"
Data Phoenix team invites you all to our upcoming "The A-Z of Data" charity webinar that's going to take place on November 16, 2022 at 16.00 CET.
Topic: "Natural Language Processing (NLP) and Machine Learning in Healthcare".
Speaker: Dr. Hemachandran Kannan, Zita Zoltay Paprika Professor of Decision Sciences & Business Economics and Course5i Chair Professor of Business Analytics and Machine Learning at Woxsen University
Language: English
Participation: free (but you'll be required to register)
Karma perk: donate to our charity initiative
ABOUT THE SPEAKER AND TOPIC
Dr. Hemachandran Kannan has been a passionate teacher with 15 years of teaching experience and 5 years of research experience. A strong educational professional with a scientific bent of mind, highly skilled in AI & Business Analytics. He was bestowed as Best faculty at Woxsen University in 2021-2022 and also in Ashoka Institute of Engineering & Technology in 2019 – 2020. He is having rich working experience in Natural Language Processing, Computer Vision, Building Video recommendation systems, Building Chatbots for HR policies and Education Sector, Automatic Interview processes, and Autonomous Robots. He is working on various real-time use cases and projects in collaboration with Industries such as Advertflair, LLC, Course5i and Apstek Corp.
There are several significant improvements that the healthcare sector needs. There are countless opportunities to use technology to deliver more accurate, effective, and impactful treatments at precisely the appropriate time in a patient's care, from chronic illnesses and cancer to radiography and risk assessment. Artificial intelligence (AI) is set to be the engine that drives advances across the care continuum as payment mechanisms change, patients expect more from their providers, and the volume of available data continues to expand at a startling rate.
The methods that people represent the same concepts or connections in healthcare literature (including EMR, claims, clinical notes, test data, pathology reports, clinical trials, and more) vary greatly. Data scientists may clean up natural language (i.e., text documents) into a structured, formal representation by using Natural Language Processing (NLP) to capture this diversity and provide a normalised representation of the text. When installing an ML model, the quest of high-quality data sets presents several difficulties. The performance of a model will be determined by the calibre of the data in feature sets. It can be difficult to keep up with the constant influx of new programming libraries and tools, and doing so takes time away from evaluating important data. Additionally time-consuming are the data's collecting and cleaning in order to achieve the necessary quality. According to estimates, the healthcare sector spends 80% of its time cleansing data and just 20% of that time finding insights.
Within the pharmaceutical and healthcare industries, NLP has lately seen a rise in popularity. Deep learning algorithms' ability to analyse text input and extract information relevant to the circumstance may be primarily blamed for this. Finding patterns in medical data is one use for machine learning, and it is also quite good at predicting the disease.
In this session, I will discuss on how NLP and Machine learning helps in Healthcare sector and its applications.
---
ABOUT OUR CHARITY INITIATIVE
This webinar is planned as a charity event. As we did before, we do our best to raise funds for KOLO — A project created by Ukrainian IT experts to help Ukraine fight the war against Russia by supplying high-tech equipment to the front lines.
This cause is very special to us. So, please donate any amount you can to help us save Ukrainian lives. Every donation is a huge help!
Please note that participation is free but registration is required! We are also looking forward to any donations that you're willing to give to our charity initiative.
Data Phoenix Newsletter
Join the newsletter to receive the latest updates in your inbox.
Comments
---