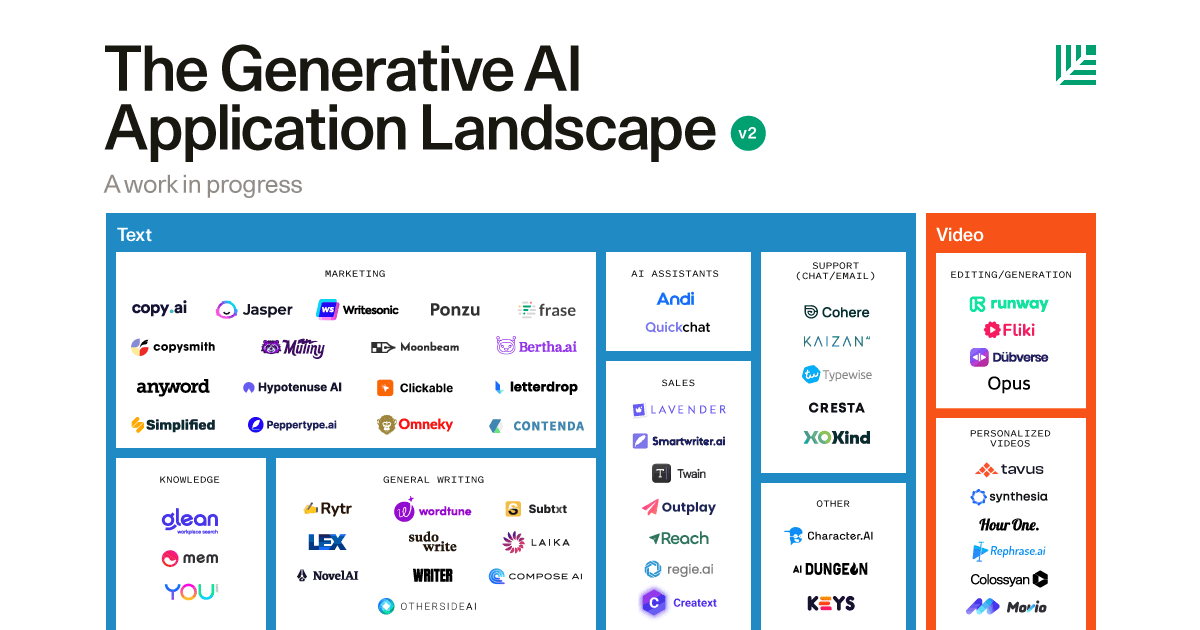 Gen AI Market Map by Sequoia Capital Venture Investors
The multiple return on investment of the Sequoia Capital U.S. Venture Capital Fund, founded in 1972 by Don Valentine, makes it one of the most efficient in the industry. Among the fund's successful investments is an investment in Apple in 1978.
The fund helps daredevils build legendary companies from idea to IPO and beyond. It seeks out creative, determined,  independent thinkers and begins working with them in the earliest stages - sometimes even while the company is still nothing more than an idea.
Most recently, Sequoia Capital created and introduced a Gen AI market map, The Generative AI Application Landscape, where it collected the best projects in the machine learning world that are getting the company excited. They include copywriting tools Copy.ai, Contenda, Copysmith, Hypotenuse, text editor Get Writer, coding tools GitHub and Replit, and image generators Stability AI, Craiyon, Lexica.
The foundation described their development as a nascent frontier of development in the world of artificial intelligence, created through all the input and feedback they received. The map is a living document to which new suggestions can be made regularly, as the AI world is not standing still and evolving at a rapid pace.
Sequoia Capital takes their work seriously. And although they are sometimes referred to as investors, they consider themselves partners for the long term, helping startups build successful companies and develop the world of AI.
And the renowned NVIDIA AI is now moving into Oracle's cloud infrastructure. The companies have announced their multi-year partnership to bring NVIDIA's full stack of accelerated computing, from GPUs to systems to software, to the Oracle Cloud Infrastructure (OCI).
Data Phoenix Newsletter
Join the newsletter to receive the latest updates in your inbox.
Comments
---