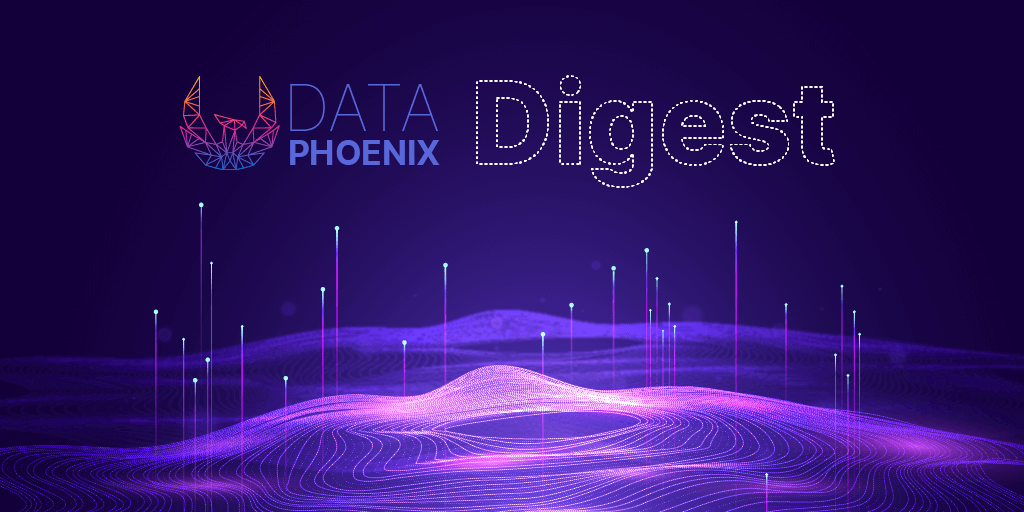 Data Phoenix Digest - 26.08.2021
Announcement of next three webinars of "The A-Z of Data" series, AI and social sciences, MLOps best practices for Data Scientists, bootstrapping labels via supervision & Human-In-The-Loop, Machine Learning Zoomcamp, papers, videos, courses, jobs, and more...
The Data Phoenix Events team is happy to invite you all to the next three of our "The A-Z of Data" series webinars:
As you understood, September is a month of education not only for school students. Register for all webinars or for some specific which you like, freedom of choice is yours! We would love to see you anytime!
---
NEWS
What's new this week?
Amazing Tesla bot. NVIDIA's fight for AI availability. AI and social sciences. Garner identifies key technologies to watch (AI included). AI for fashion, social care, and theater.
Funding news:
ARTICLES
Geometric Foundations of Deep Learning
Geometric Deep Learning is an attempt for geometric unification of a broad class of ML problems from the perspectives of symmetry and invariance. Explore the topic in detail!
Using Sentiment Score to Assess Customer Service Quality
Net Promoter Score (NPS) is a well-accepted measurement of customer satisfaction in most customer-facing industries. In this article, you'll learn how Airbnb uses ML to calculate it.
Feature Store: Data Platform for Machine Learning
Feature data is critical to the accurate predictions made by ML models. In this article, you'll learn how to generate, manage, and serve features by using open-source and homegrown feature stores.
GPU-Powered Data Science (NOT Deep Learning) with RAPIDS
Tired of the deep learning hype? In this article, you'll learn how to utilize GPUs for regular data science and machine learning even if you don't lots of deep learning work.
Moving SciPy to the Meson Build System
In this guide, you'll learn about moving SciPy to Meson. Because SciPy now builds with Meson on Linux, it's worth exploring: expect faster builds and a more pleasant development experience.
MLOps Best Practices for Data Scientists
Maggie Mhanna, Data Scientist at Renault Digital, shares some of the MLOps best practices and tips that will allow you to take your ML model and operate it properly in production.
Create Amazon SageMaker Projects Using Third-Party Source Control and Jenkins
The authors demonstrate new capabilities of SageMaker using GitHub and Jenkins. They use MLOps project templates to deploy ML models from the model registry to staging and production.
6 Trends in Data and Artificial Intelligence for 2021 and Beyond
In this article, you'll find a quick overview of major trends that are developing in and driving the worlds of data science and artificial intelligence. Take a look!
Optimize Personalized Recommendations for a Business Metric of Your Choice with Amazon Personalize
Learn how you can use Amazon Personalize to optimize personalized recommendations for a business metric of your choice and improve relevance of recommendations for your users.
Bootstrapping Labels via Supervision & Human-In-The-Loop
Data collection and data labelling can pose a serious challenge. In this article, the authors discuss semi, active, and weakly supervised learning in the context of these two problems.
Pose Estimation and Classification on Edge Devices with MoveNet and TensorFlow Lite
TensorFlow shares updates on the TensorFlow Lite version of MoveNet, Android Raspberry Pi pose estimation samples, and a Colab notebook that teaches you how to do custom pose classification.
PAPERS
Semi-Supervising Learning, Transfer Learning, and Knowledge Distillation with SimCLR
Khoi Nguyen et al. conduct analyses on three different aspects of SimCLR to analyze properties of contrast learning on fine-tuning, research knowledge distillation through teacher-forcing paradigm, and study how transfer learning works on various datasets.
How to Avoid Machine Learning Pitfalls: A Guide for Academic Researchers
In this paper for research students, you'll find some of the common mistakes that occur when using machine learning techniques, and what can be done to avoid them.
On the Opportunities and Risks of Foundation Models
The paper provides a thorough account of the opportunities and risks of foundation models, ranging from their capabilities and technical principles to their applications, and more.
Program Synthesis with Large Language Models
This paper explores the limits of the current generation of large language models for program synthesis in general purpose programming languages in a variety of scenarios.
Do Vision Transformers See Like Convolutional Neural Networks?
The authors analyze the internal representation structure of ViTs and CNNs on image classification benchmarks to compare two architectures. Different datasets are used.
Image2Lego: Customized LEGO Set Generation from Images
Image2Lego is a system that generates a LEGO brick model from 2D images. It uses an octree-structured autoencoder to obtain a feasible latent representation for model reconstruction.
ARCH++: Animation-Ready Clothed Human Reconstruction Revisited
ARCH++ is an image-based method to reconstruct 3D avatars with arbitrary clothing styles. The  avatars are animation-ready and highly realistic.
COURSES
AutoML - Automated Machine Learning
The course addresses the challenge of designing well-performing ML pipelines. You'll learn how to use and design automated approaches for determining ML pipelines efficiently.
Machine Learning Zoomcamp
During this virtual event, you'll explore the ins and outs of machine learning. The course consists of 12 lectures and tons of additional content to help you master the 101 of ML.
PODCASTS & INTERVIEWS
Running from Complexity [DataTalks.Club]
Join Ben Wilson and listen to Season 4, Episode 5 of the DataTalks.Club on the topic of complexity of AI/ML solutions and systems. The transcript is included.
VIDEOS
Tesla AI Day
Watch the most "bang" tech event of the week. Learn about Elon Musk's vision for Tesla and dive deep into the latest technology innovations from the world's leader in autonomous driving.
Building Streaming Analytics: The Journey and Learnings
The DataTalks.Club webinar featuring Maxim Lukichev, PhD in Database Query Optimizations. Watch the video to learn about specific of building streaming analytics solutions.
JOBS
Looking to feature your open positions in the digest? Kindly reach out to us at [email protected] for details. We'll be proud to help your business thrive!
Data Phoenix Newsletter
Join the newsletter to receive the latest updates in your inbox.
Comments
---