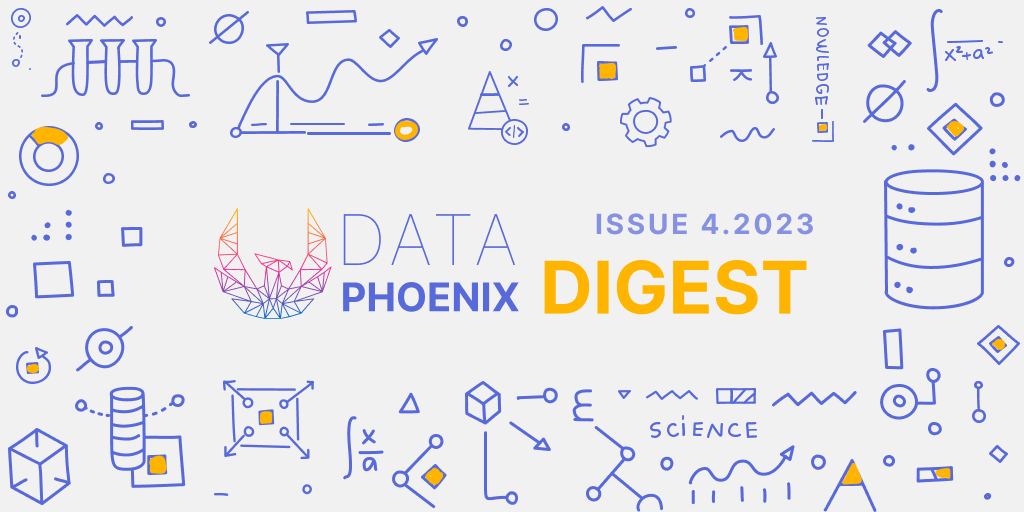 Data Phoenix Digest - ISSUE 4.2023
Video recording of our webinar about deploying ML models, guide to the YOLO family, discover the 4 magical methods to detect AI-generated text, BentoML vs. FastAPI, Temporal Graph Learning, exploring MLflow experiments, watermark for Large Language Models, EPiC-GAN, Tracr, Msanii, news, and more.
NEWS
---
Share your latest news and advancements in Data, AI, and Machine Learning with us, and let us help you showcase your solutions to a broader audience.
---
VIDEO
Deploying DL models with Kubernetes and Kubeflow.
Video recording of our webinar about deploying ML models by Alexey Grigorev.
---
If you have interesting topics or projects that you would like to share with the world in our webinars, you can submit them here.
ARTICLES
A Guide to the YOLO Family of Computer Vision Models
YOLO (You Only Look Once) is an advanced algorithm that can detect and recognize various objects in a picture in real-time, faster and more accurately than any other algorithm. The YOLO family is advancing, step-by-step, and every update adds to its potential. Learn more about it!
Discover the 4 Magical Methods to Detect AI-Generated Text (including ChatGPT)
The recent launch of OpenAI's GPT-3 and ChatGPT has sparked a revolution in the field of AI & NLP. However, it has also raised justified concerns about the potential misuse of text generated by AI. Here are several methods for detecting AI-generated text.
Personalized 'Complete the Look' Model
In this article, the author presents the Complete the Look (CTL) model and explains how one can develop a model that generates a complete, stylized outfit built around the current item the customer is considering on a given item page. Learn more!
End-to-End Pipeline for Segmentation with TFX, Google Cloud, and Hugging Face
The SensorFlow team unveils the crucial details of building an end-to-end ML pipeline for Semantic Segmentation tasks with TFX and various Google Cloud services, such as Dataflow, Vertex Pipelines, Vertex Training, and Vertex Endpoint. Check it out!
Universal Image Segmentation with Mask2Former and OneFormer
This guide introduces Mask2Former and OneFormer, 2 state-of-the-art neural networks for image segmentation. Along the way, you'll learn about the difference between the various forms of image segmentation. Give it a thorough read!
BentoML vs. FastAPI: The Best ML Model Deployment Framework and Why It's BentoML
In 2022, FastAPI became one of the most loved web frameworks in the world. In this article, the author compares FastAPI's features to BentoML and argues that BentoML is the best choice for deploying machine learning models as APIs. Learn more!
Temporal Graph Learning in 2023
Temporal Graph Learning (TGL) has recently gained increasing attention from the ML community. In this article, the authors present major progress in TGL until 2022 and discuss promising future directions. Learn more about TGL's future development!
Exploring MLflow Experiments with a Powerful UI
In this article, the authors announce the release of aimlflow, an integration that helps to seamlessly run a powerful experiment tracking UI on MLflow logs, and explain how it can be used in practice. Dive in!
---
Make a difference in the global community by becoming one of our authors. Share your expertise in data and artificial intelligence through writing articles, and help us educate and inspire the next generation of industry leaders.
---
PAPERS & PROJECTS
EPiC-GAN: Equivariant Point Cloud Generation for Particle Jets
EPiC-GAN is an equivariant point cloud generative adversarial network that can produce point clouds of variable multiplicity. EPiC-GAN can scale well to large particle multiplicities and achieve high generation fidelity on benchmark jet generation tasks. Learn more!
Behind the Scenes: Density Fields for Single View Reconstruction
In this paper, the authors introduce a neural network that predicts an implicit density field from a single image. It maps every location in the frustum of the image to volumetric density. Our network can be trained through self-supervision from only video data. Take a look!
Tracr: Compiled Transformers as a Laboratory for Interpretability
Tracr is a "compiler" for translating human-readable programs into weights of a transformer model. It can be used to create ground truth transformers that implement programs, including computing token frequencies, sorting, and Dyck-n parenthesis checking.
A Watermark for Large Language Models
Potential harm of large language models can be mitigated by watermarking model output. In this paper, the authors propose a watermarking framework for proprietary language models that can be embedded with negligible impact on text quality. Learn more about the method!
Msanii: High Fidelity Music Synthesis on a Shoestring Budget
Msanii is a novel diffusion-based model for synthesizing long-context, high-fidelity music efficiently. It combines the expressiveness of mel spectrograms, the generative capabilities of diffusion models, and the vocoding capabilities of neural vocoders.
---
If you enjoyed this content, make sure to subscribe to our newsletter and share it with others who may be interested. Follow us on social networks (Telegram, Facebook, Twitter, LinkedIn, YouTube) to stay updated about the upcoming webinars and have more interesting content.
---
For collaboration inquiries, including sponsoring one of the future newsletter issues, please contact us here.
Data Phoenix Newsletter
Join the newsletter to receive the latest updates in your inbox.
Comments
---