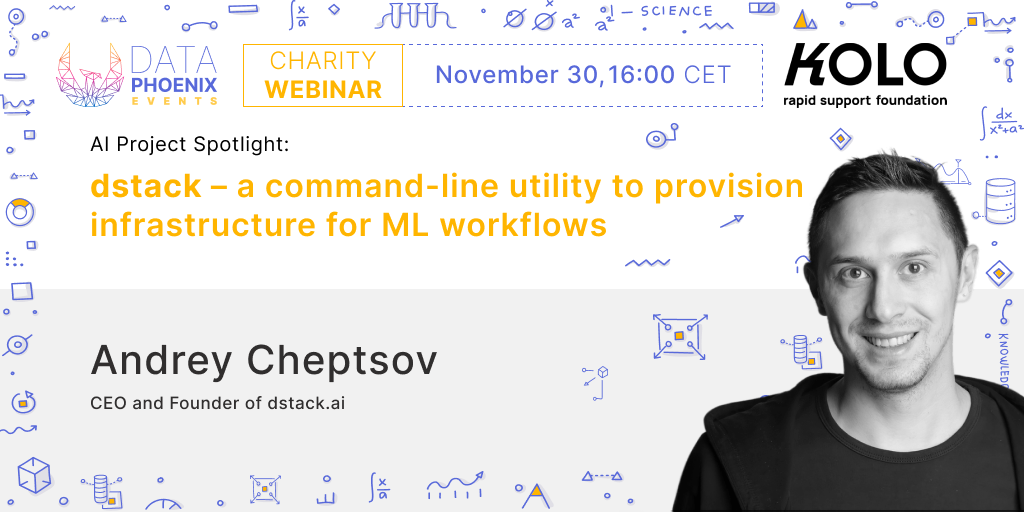 Charity AI webinar "dstack – a command-line utility to provision infrastructure for ML workflows"
Data Phoenix team invites you all to our upcoming "AI Project Spotlight" charity webinar that's going to take place on November 30, 2022 at 16.00 CET.
Topic: "dstack – a command-line utility to provision infrastructure for ML workflows"
Speaker: Andrey Cheptsov, CEO and Founder of dstack.ai
Language: English
Participation: free (but you'll be required to register)
Karma perk: donate to our charity initiative
ABOUT THE SPEAKER AND TOPIC
Andrey is the creator of dstack. He is passionate about open-source and developer tools for AI. Previously, Andrey worked at JetBrains with the PyCharm team.
"Unlike traditional development workflows, ML workflows are difficult to run on a local machine (due to the lack of memory, more CPUs/GPUs, etc).
Imagine, if you could run your ML workflows the very same way as you do it locally, but they would run in the cloud. And you wouldn't need to worry about provisioning infrastructure, setting up the environment, etc.
We are delighted to introduce dstack, an open-source tool that is designed to do exactly that."
ABOUT OUR CHARITY INITIATIVE
This webinar is planned as a charity event. As we did before, we do our best to raise funds for KOLO — A project created by Ukrainian IT experts to help Ukraine fight the war against Russia by supplying high-tech equipment to the front lines.
This cause is very special to us. So, please donate any amount you can to help us save Ukrainian lives. Every donation is a huge help!
Please note that participation is free but registration is required! We are also looking forward to any donations that you're willing to give to our charity initiative.
Data Phoenix Newsletter
Join the newsletter to receive the latest updates in your inbox.
Comments
---