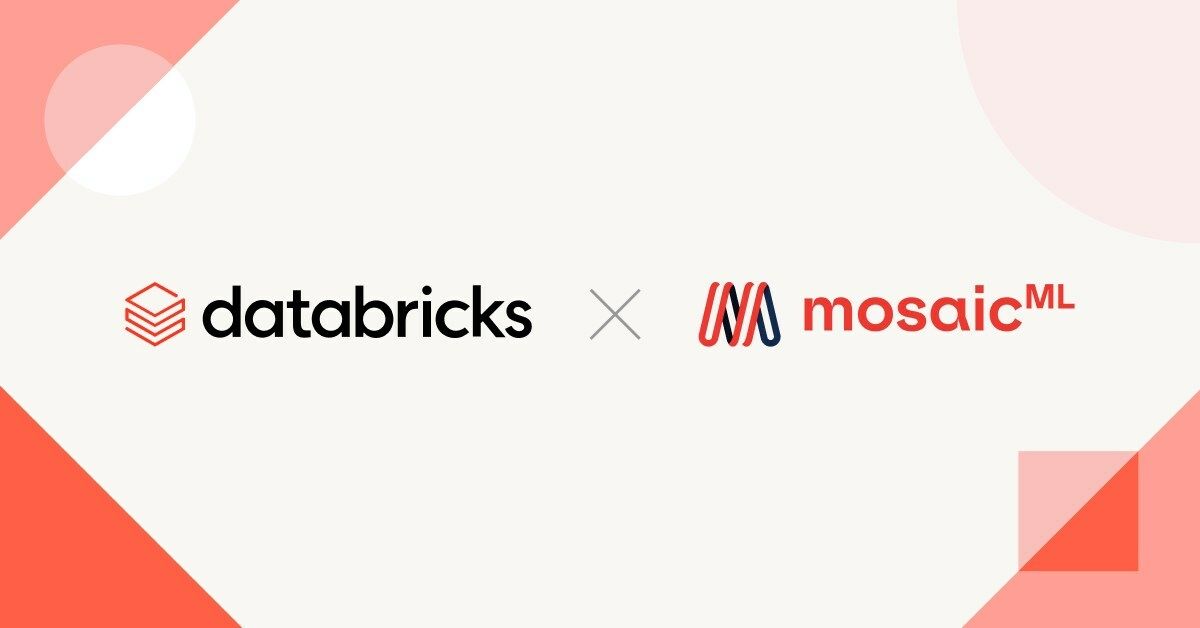 Databricks acquires MosaicML
Together, Databricks and MosaicML will enable any company to build, own and secure best-in-class generative AI models while maintaining control of their data
Databricks, the Data and AI company, has announced its definitive agreement to acquire MosaicML, a leading generative AI platform. This strategic move aims to make generative AI accessible to all organizations, empowering them to build, own, and secure their own generative AI models using their data. The acquisition is valued at approximately $1.3 billion, including retention packages.
With the Databricks Lakehouse Platform, over 10,000 organizations worldwide, including Comcast and Condé Nast, unify their data, analytics, and AI capabilities. Databricks, headquartered in San Francisco, was founded by the original creators of Delta Lake, Apache Spark™, and MLflow. The company is committed to helping data teams tackle the world's most challenging problems and can be followed on Twitter, LinkedIn, and Facebook.
MosaicML is renowned for its state-of-the-art MPT large language models (LLMs). By leveraging MosaicML's technology, organizations can quickly and cost-effectively build and train their own advanced models using their data. Notable customers, such as AI2, Generally Intelligent, Hippocratic AI, Replit, and Scatter Labs, have already experienced the benefits of MosaicML's generative AI platform across various use cases.
The integration of MosaicML's capabilities into the Databricks Lakehouse Platform will provide organizations with a simple and fast way to maintain control, security, and ownership of their valuable data without incurring high costs. MosaicML's automatic optimization of model training enables 2x-7x faster training compared to standard approaches. Additionally, the scalability of resources allows the training of multi-billion-parameter models in hours rather than days. With Databricks and MosaicML, the cost of training and using large language models will be reduced from millions to thousands of dollars.
Databricks' unified Data and AI platform, combined with MosaicML's generative AI training capabilities, will offer a robust and flexible solution for large organizations and a wide range of AI use cases.
Upon the completion of the acquisition, the entire MosaicML team, including its industry-leading research team, will join Databricks. MosaicML's research team has made significant contributions to open-source foundation models, including the popular MPT-30B model and the training algorithms powering MosaicML's products.
The MosaicML platform will be integrated and supported over time, allowing customers to seamlessly build, own, and secure their generative AI models. This collaboration between Databricks and MosaicML will empower customers to have greater control in building models, training them with their unique data, and creating differentiating intellectual property for their businesses.
Databricks and MosaicML share a common vision rooted in transparency and open-source contributions. Together, they aim to democratize AI and establish the Lakehouse as the ideal environment for building generative AI and large language models. The acquisition marks a significant step in revolutionizing the computing landscape and making AI accessible to all.
Data Phoenix Newsletter
Join the newsletter to receive the latest updates in your inbox.
Comments
---