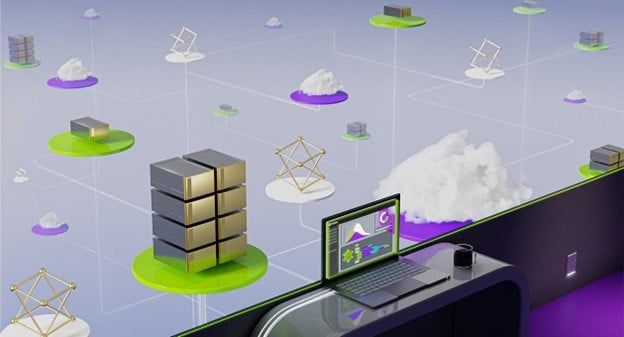 Nvidia announces availability of DGX Cloud on Oracle Cloud Infrastructure for generative AI training
NVIDIA's DGX Cloud is now widely accessible, boasting thousands of NVIDIA GPUs on Oracle Cloud and NVIDIA's infrastructure in the U.S. and U.K. The service equips enterprises with the necessary tools for training advanced AI models, each DGX Cloud instance featuring eight GPUs.
NVIDIA DGX Cloud, a comprehensive AI supercomputing service, has now been widely deployed, offering thousands of NVIDIA GPUs on Oracle Cloud Infrastructure and NVIDIA infrastructure in the U.S. and U.K.
First unveiled at NVIDIA's GTC conference in March, DGX Cloud provides businesses with instant access to the infrastructure and software necessary to train advanced models for generative AI and other cutting-edge applications.
"Generative AI has made the rapid adoption of AI a business imperative for leading companies in every industry, driving many enterprises to seek more accelerated computing infrastructure," stated Pat Moorhead, chief analyst at Moor Insights & Strategy. Global management consultancy McKinsey estimates that Generative AI could contribute over $4 trillion to the economy annually by converting proprietary business knowledge across a myriad of industries into next-generation AI applications.
DGX Cloud has been instrumental in transforming business operations across nearly every industry. Healthcare companies are utilizing it to train protein models that expedite drug discovery and clinical reporting through natural language processing. Financial service providers are forecasting trends, optimizing portfolios, building recommender systems, and developing intelligent generative AI chatbots. Insurance companies are constructing models to automate claims processing, while software companies are leveraging it to develop AI-powered features and applications. Many others are employing DGX Cloud to establish AI factories and digital twins of valuable assets.
DGX Cloud offers dedicated infrastructure that enterprises can rent on a monthly basis, providing immediate access to resources for developing large, multi-node training workloads. This eliminates the complexity of acquiring, deploying, and managing on-premises infrastructure, offering NVIDIA DGX AI supercomputing paired with NVIDIA AI Enterprise software, accessible via a web browser.
Each DGX Cloud instance boasts eight NVIDIA 80GB Tensor Core GPUs for 640GB of GPU memory per node. A high-performance, low-latency fabric ensures workloads can scale across clusters of interconnected systems, enabling multiple instances to function as a single, colossal GPU. High-performance storage is integrated into DGX Cloud to provide a complete solution.
Enterprises can manage and monitor DGX Cloud training workloads using NVIDIA's Base Command Platform software, ensuring a seamless user experience across DGX Cloud and on-premises NVIDIA DGX supercomputers. Furthermore, DGX Cloud includes NVIDIA AI Enterprise, offering over 100 end-to-end AI frameworks and pre-trained models to expedite data science pipelines and streamline the development and deployment of production AI.
Data Phoenix Newsletter
Join the newsletter to receive the latest updates in your inbox.
Comments
---