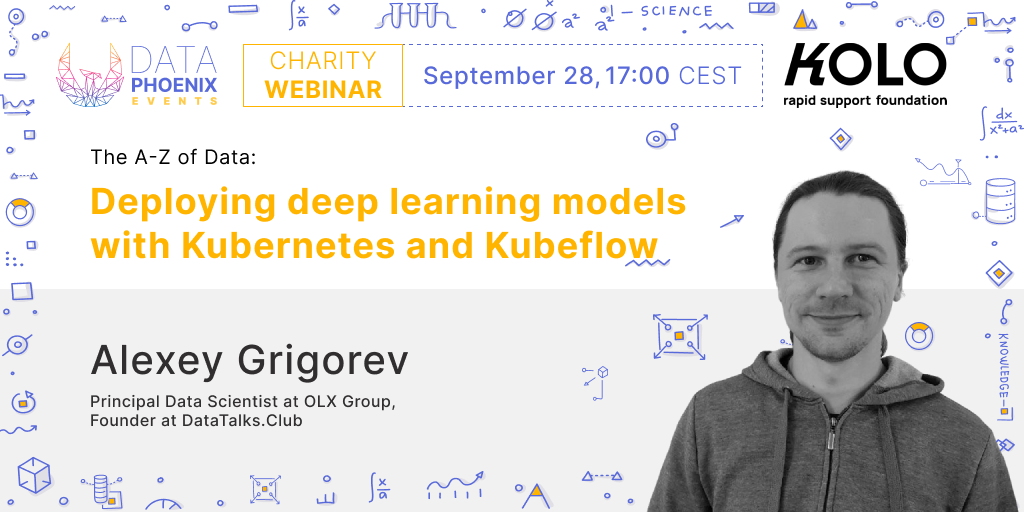 Charity AI webinar "Deploying DL models with Kubernetes and Kubeflow"
The Data Phoenix Events team invites you all on September 28 to our "The A-Z of Data" charity webinar. The topic — deploying deep learning models with Kubernetes and Kubeflow.
In this talk, we'll learn about deploying ML models. First, we'll see how to do it with TF-Serving and Kubernetes, and in the second part of the talk, we'll do it with KFServing and Kubeflow.
We resume our series of webinars as charity webinars to raise money for KOLO. This project was created by Ukrainian technology industry experts to help Ukraine fight the war against Russia by supplying high-tech equipment to the front lines.
Please donate any amount to help us stop atrocities by delivering hi-tech equipment to the frontline and helping to save the lives of Ukrainians. Every donation is a huge help!
Speaker
Alexey Grigorev - Principal Data Scientist at OLX Group, Founder at DataTalks.Club. Alexey wrote a few books about machine learning. One of them is Machine Learning Bookcamp — a book for software engineers who want to get into machine learning.
Webinar language: English.
Data Phoenix Newsletter
Join the newsletter to receive the latest updates in your inbox.
Comments
---